Inconvenience of detioration
September 04, 2016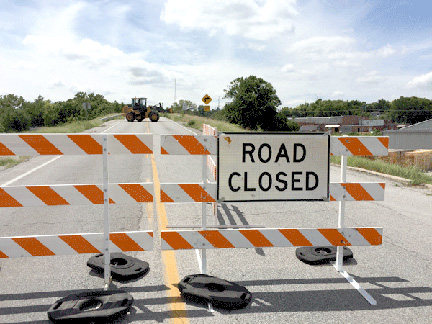 The Route 96 bridge over the Missouri and North Arkansas Railroad tracks in northeast Carthage is closed until it can be replaced in 2017./small>
Carthage – The Missouri Route 96 bridge over the Missouri and North Arkansas Railroad tracks just west o Kellogg Lake Park in Carthage was closed to all traffic on September 1, 2016, and, according to a press release from the Missouri Department of Transportation, won't reopen until its replacement some time in 2017. After inspection, the bridge revealed further deterioration, MoDot said.
Signed detours have been posted for large trucks, 10 tons or heavier, as well as all other vehicles. Back in October 2014 MoDOT restricted the weight limit to 10 tons, or 20,000 pounds, for vehicles crossing the bridge. The legal maximum weight limit for vehicles in Missouri is 80,000 lbs.
The bridge was built in 1934 and carried approximately 4,500 vehicles a day.